This
automatic cashew nuts butter production line
is an ideal equipment for produce cashew butter, and the production capacity can be customized according to requirement of customers. This whole set line includes cashew nut shelling machine,cashew nut kernel shell separator machine, nuts roasting machine, gas peeling machine and butter grinding machine. Following will introduce these machines in details.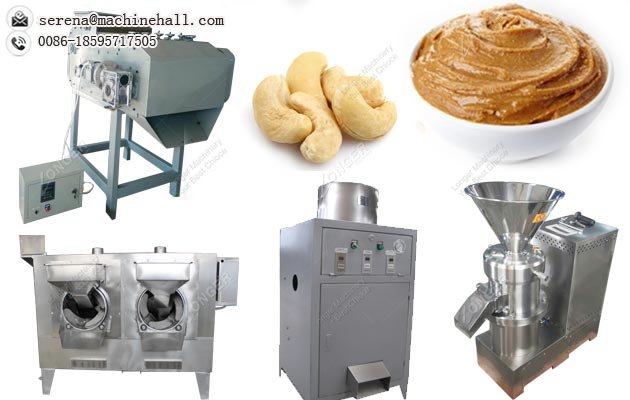 1. Cashew nut sheller machine: The sheller mainly consists of frame, roller, roller bearing, motor, hopper, slide device and shelling device. It is new developed and automatic cashew nuts sheller. It solved the problems of labor-intensive, slow, tedious, low whole kernels percentage caused by traditional manually shelling machine or other mechanical crackers.
2. Cashew nut roastor machine: The drum roasting machine can dry peanut,almond, cashew nut,etc nuts and seeds. Our internal drum is made of stainless steel plate punching, the front ring with 4mm thick stainless steel plate rolled from the stainless steel punching plate compared to stainless steel mesh more durable wear, long life 5 times.
3. Gas cashew peeler machine: The automated cashew nuts peeling machine is specially formulated to get utilized for peeling cashew nuts, and so on. separating the kernels in the inner soft skin on the kernels effectively.
4. Cashew nut grinder: The grinding machine has strong shearing force and grinding power, it can process hard materials, for example, nuts, seeds, beans, construction materials, chemical materials, etc. And the main components use high quality stainless steel material. Corrosion resistant and keep food hygiene.