The
chocolate paste making machine
includes cocoa roasting, peeling and grinding machine. The processing line has the advantages of high efficiency,good effect,long service life,compact structure,easy to operate etc.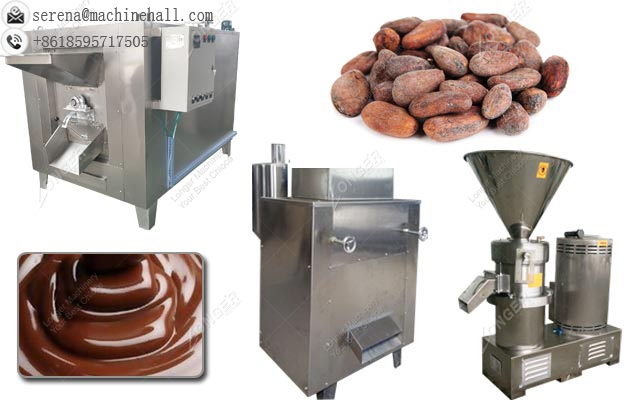 Mian equipment introduction of
cocoa bean grinder roaster
:
1. Cocoa bean roaster machine: The drum roaster machine is mainly used for drying and baking hot products such as peanut, broad beans, coffee beans, melon seeds, nuts and other granular materials. It uses rotary drum, air convection conduction, infrared radiation principle. The heat generated by the work of the electric heating tube is used to dry the material by infrared radiation and hot air convection, and the baked material tastes pure. In the heating process, the drum rotation in the time, the material of uniform heating, because it is not a direct heating roller, so it will not spot paste phenomenon, with energy-saving safety, sanitation and convenience, easy operation etc.
2. Cocoa bean peeling machine: This peeler is used to remove the shell of cocoa bean.The peeling machine has the advantages of high automation, good peeling effect, small noise, no pollution, etc. the peeling machine is an ideal equipment for peeling and processing cacao beans. At the same time, we also produce a range of professional equipment such as cocoa bean grinder, cocoa bean roaster and cocoa bean crusher.
3. Cocoa grinder: This butter grinding machine is widely used in food industry to make cocoa bean mass,peanut butter,sesame paste,date paste,soybean milk,rice milk,chili paste,mashed potato, juice and vegetable juice.It also cna be used in pharmaceutical industry,daily chemical industry and other industries.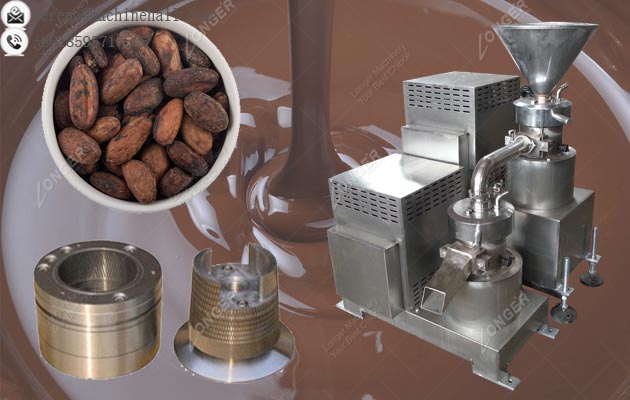 Features of Cocoa Roasting and Grinding Machine:
1. High capacity, advanced product design and technology, stable and reliable, mass production can improve labor productivity, stability and improve product quality, improve labor condition, reduce production area, reduce the production cost, shorten production cycle, guarantee the production balance, significant economic benefits.
2. Simple operation and maintenance, beautiful generous appearance; compact structure, smooth working, low noise and long service life.
Machine uses the food grade stainless steel parts and materials, strong and durable.
3. Different capacity to meet customers different demand, output, good effect, saving time and effort, energy efficient, safety and health without pollution.
4. Electrical safety in line with national standards, security and reliable.