The
cashew nut coating line
including cashew boiling machine,shelling machine,cashew skin peeling machine, coating equipment, swing roasting machine, flavoring machine and cooling equipment. The complete line can make chocolate coated cashew,sugar coated cashew,flour coated cashew nut, honey and salt coated cashew nuts. It is very popular in the worldwide. If you are interested in the line, just contact me.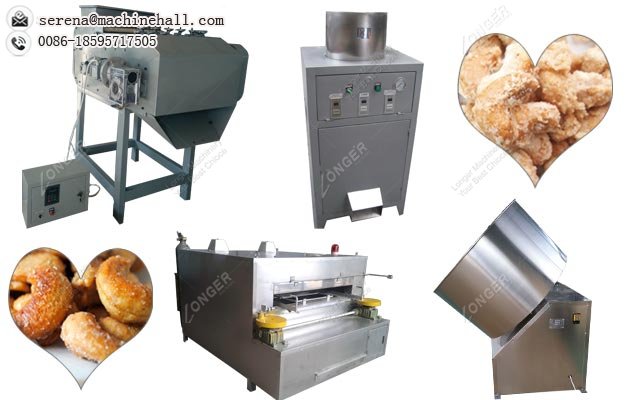 Main Machines Introduction of
Coated Cashew Nuts Making Machine
:
a. Cashew nut shelling machine: This machine is widely used to remove hard shells of cashew,almonds and hazelnuts. The cashew processing machine is mainly consisted of shelling roller and vibrating screen. We can adjust the gas between shelling rollers, so that it can remove hard shells of different sizes nuts.It is usually a part of the nut processing line and used in conjunction with the kernel and nuts separating machine.
b. Cashew peeling machine: It need to configure air compressor,a strong airflow generated by the air compressor, gas to form vortex, which will remove the outer membrane of cashew nuts. The skin is smooth, the damage rate is extremely low.
c. Coating machine: To mix the peanut kernels with sugar coatings, the coatings also can be chocolate, salt, or other additives;
d. Swing oven: To roast the coated peanut evenly and uniformly;
e. Flavoring machine: To flavor the coated peanut, make it more delicious;
f. Cooling machine: To lower down the temperature of the products.