The
cocoa powder production line
is a good equipment to make cocoa powder for commercial business. It includes cocoa roasting machine, cocoa bean peeling machine, cocoa grinding mill, oil extractor, cocoa oil cake crushing machine and powder making machine. We are reliable cocoa machinery manufacturer in China.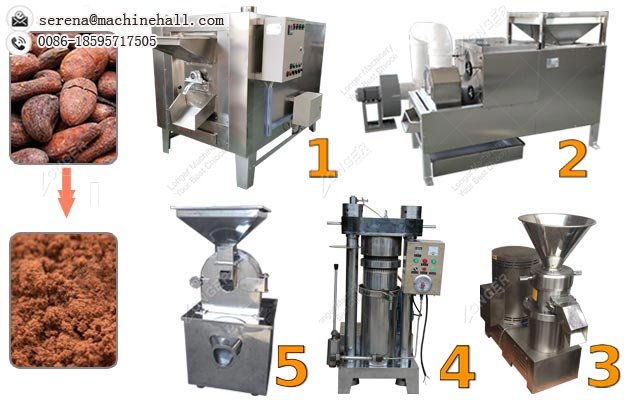 1. Cocoa roasting machine:
This machine is mainly used for drying cocoa beans, sesame seed, beans, nuts, peanuts, melon seeds, almonds, chestnuts in the food processing industry. The roaster uses rotary cage, electricity (coal or gas) as heat source, heat conduction and thermal radiation principle, and hot air as drying medium to heat energy on the roasted object. The machine has automatic temperature control and timing device, and the temperature can be adjusted freely between 0-300 degrees according to the required temperature of the material. It is very convenient to use.
2. Cocoa bean peeling machine:
This machine consists of the material box, the feeding device, the material sieve, the roll and the dust collector. Use the rubber roll for rubbing, thus to achieve the purpose of removing cocoa bean skin and crush cacao. It has high output, low power consumption and no damage.
3. Cocoa grinding mill:
It is made of stainless steel. All parts contacting with the material except motor and parts are made of high quality 304 stainless steel. It has good corrosion resistance, abrasion resistance and easy cleaning. It can be applied to the homogenization, emulsification, mixing and comminution of all kinds of semid fluid or fluid and emulsion.
4.
Cocoa oil extractor
: The automatic oil press machien is a kind of small mechanical oil press, which is easy to operate, high oil production rate and less damaged parts. It is a new product instead of small manual oil pressing equipment at present. Because every time the amount of oil extraction is 2 to 8 kilograms per time, the time is short (8 one 12 minutes), which is especially suitable for small and medium-sized factories.
5.
Cocoa oil cake crushing machine
:The machine is made of stainless steel. It has no pollution to the processed materials, and is completely in line with the food hygiene standard. It has strong abrasion resistance, long service life, simple operation, convenient cleaning and maintenance, and low noise. It is the latest product in the field of bone broken. After the material is processed, it can keep its original nutrients well, and the effect of fresh keeping is good.
6.
Cocoa powder crushing machine
: The machine utilizes the high-speed relative motion of movable tooth disc and fixed toothed disc to make the crushed material get the crushing effect through the comprehensive action of impact, friction and impact between materials. The machine has a simple, strong, smooth running and good crushing effect.
LONGER is a company specializing in food machinery, development, production and sales. We have strong technical strength and manufacturing strength. The machine manufacturing plant reaches more than 8000 square meters, which has a lot of practical experience in the field of cutting food raw materials. Our products are sold to more than 130 countries and regions all over the world, and are well received by customers. More information about this cocoa processing machinery, please continue to pay attention to our website, we sincerely look forward to cooperating with you!