The
groundnut roasting peeling machine
can roast and peel skin of groundnut or peanut. It is a necessary equipment for processing of white peanuts, peanut granules, peanut slices and other pre-production.
Groundut/Peanut Roasting Machine
Introduction
Application: This roaster machine is mainly used for roasting sesame, beans, nuts, peanuts, melon seeds, almonds, chestnuts and Vicia beans in the food processing industry.
Working principle: This machine adopts rotary rotary cage, and uses electric or gas heating as heat source, and utilizes heat conduction and thermal radiation principle to heat the heated energy on the roasted object with hot air as drying medium. During the roasting process, the roasted object is continuously pushed and rolled by the propulsion device in the cage, forming an uninterrupted cycle. It is boring and heated evenly, effectively ensuring the baking quality.
Features: Automatic temperature control and timing device, the temperature can be adjusted freely between 0-300 degrees according to the required temperature of the material, so it is very convenient to use.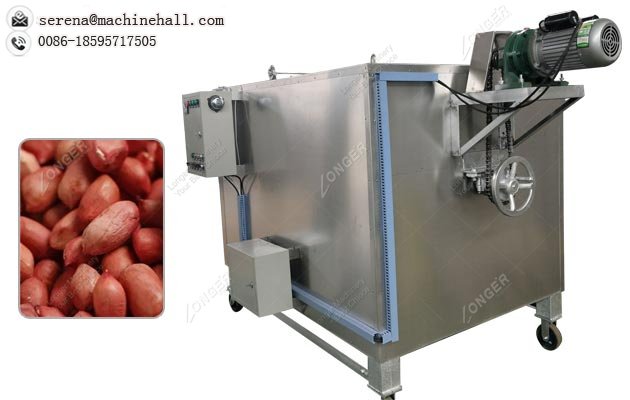 Groundut/Peanut Peeling Machine
Introduction
This peeling machine is the most advanced peanut/groundnut dry peeling equipment, this peeling machine needs raw materials below 4% moisture content, the general recommended raw material is roasted peanuts, the machine has a reasonable structure, smooth operation, noise Low, long service life, high removal rate, low half-rate and other characteristics. It can be used in combination of multiple machines, peeling quality to export standards. Mainly used for white peanuts, peanut granules, peanut slices and other pre-production peeling.