The almond shelling peeling line is mainly used for stripping hard shells of nuts of various specifications. This equipment consists of lifting, grading, shelling, shell separator, has the advantages of clean shelling, high integrity and easy cleaning. So it is ideal equipment for automatic production such as almond, hazelnut nut shell.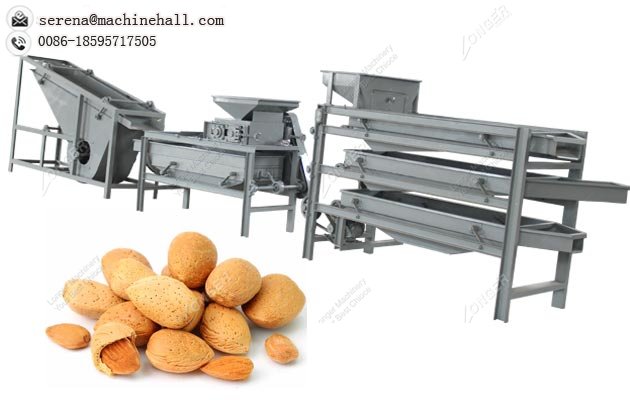 Working Flow of Almond Procesising Machine:
1. The almond or hazelnut through the elevator into the screening machine, and then nuts are separated into small, medium and large three levels, through diving hopper respectively into three almond hulling machine.
2. Almond hulling machine: The shelling clearance of huller is adjusted to corresponding size according to the size of raw material almond, achieve nut shell clean and complete, shell and kernel respectively into three almond shell kernel separator.
3. Almond shell and kernel separator separate almond shell and kernel, a mouth discharge almond kernel, another mouth discharges almond shell.
Usage of
Apricot Processing Equipment
: Suitable for processing apricot(almond), hazelnut, palm, etc.