Parts of the Egusi Sheller Machine:
The equipment consists of 2 parts: cleaning and sorting unit and shelling separation unit.
① Cleaning and grading units can clean up pumpkin seeds and watermelon seeds, remove all kinds of impurities, and divide the seeds into 7 levels according to size, so that they can be shelled and sorted.
② The shelling and separating unit can hulling, removing and sorting the graded white melon seeds and watermelon seeds. One of the unopened grains can automatically return to the sheller, and then shelling again until it is disconnected. The separation effect is very good and efficiency is high because of the use of the first classification after the shelling.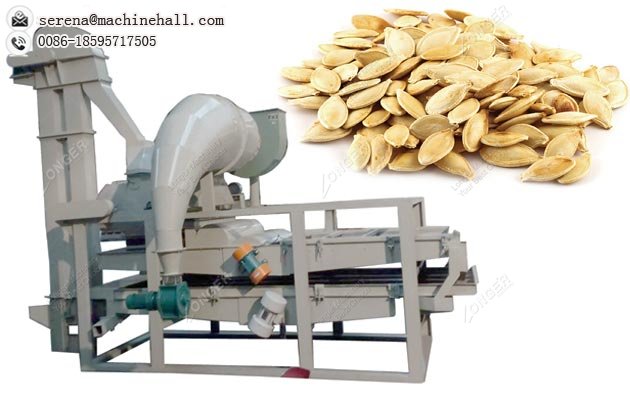 The Melon Seed Peeler Machine Features Are:
① using wet shelling method.
② Through the improvement of the original shelling machine, making the shelling efficiency higher and kernel broken rate lower.
③ The application of circular shelling, that is, shelling seeds automatically into the next shelling cycle.
④ In the collection of leather handling, the use of vibration vacuum sorting instead of blowing skin, reducing the generation of dust.
⑤ Increased the sorting sieve and screening area, so that kernel can be fully screened, reducing the kernel to return shelling machine caused by the broken.
⑥ By changing the screening sieve section, processing different specifications of white pumpkin seeds.
⑦ compact structure, low loss, easy operation and maintenance.