Usage and Characteristics of Sunflower Seeds Shellingr Machine:
This huller separation unit is independent intellectual property rights patented products of my company, including many national patents. To realize dehulling, sorting for sunflower seeds, hemp seeds, melon seeds, castor seeds. The equipment has low energy consumption, compact structure, small footprint, seed kernel low dissipation, easy operation and maintenance etc..
Composition and Process of Sunflower Seed Dehulling Machine:
The machine consists of Input Hopper, Elevator, Dehuller,and Electric Control Cabinet. The process is: Sunflower Seed--- Elevating---Dehulling and Kernel Separating---Resorting---Electric control cabinet.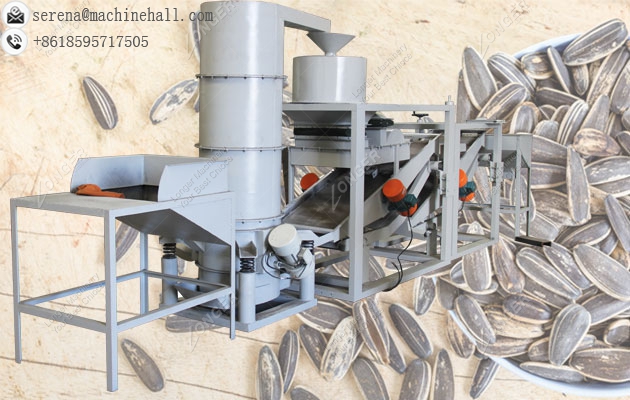 Features of
Sunflower Seeds Shelling and Separating Equipment
:
1.The machine adopts a unique double sheller set, through the frequency conversion technology to realize the control of the sheller separately. The unique wind return system allows the non disengaging grain to automatically enter the next shelling cycle, thereby greatly improving the efficiency of shelling.
2. The function completed on sunflower seed cleaning, husking and peeling, sorting and check, is the preferred equipment in the world - sunflower seed industry.
3. The shelling equipmnet has the advantages of high hulling rate, small crushing of nuts, high automation, simple operation and maintenance, etc.