The
almond strip cutting line
is an advanced equipment to make almond kernel strips. The line includes almond grader machine,almond shellling machine,almond shell kernel separating machine and almond strips cutter machine. It is suitable for automatically large-scale processing of almonds from raw materials to almond stlivers.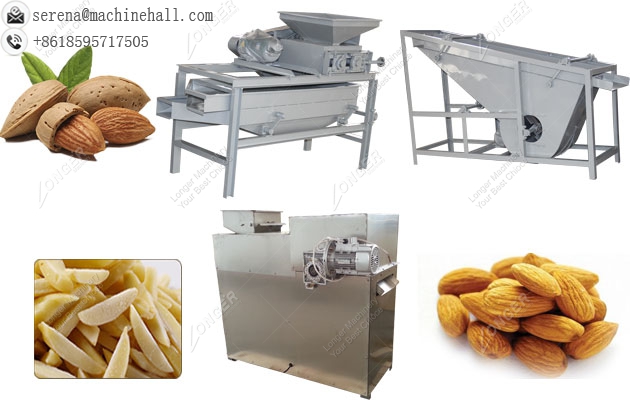 Working Porcess of
Almond Strip Cutter Machine
:
a. Almond grading machine: The almond through the elevator into the grading machine, and then nuts are separated into small, medium and large three levels according their different size, then these almonds respectively into almond shelling machine.
b. Almond shelling machine: The shelling clearance of sheller is adjusted to corresponding size according to the size of raw material almond, achieve nut shell clean and complete, shell and kernel respectively into almond shell kernel separating machine.
c. Almond shell and kernel separating machine: It separates almond shell and kernel, a mouth discharge almond kernel, another mouth discharges almond shells.
d. Almond strips cutter: The slivering machine consists of hopper, vibration feeder, cutter, cutting roller and other parts. Mainly used for cutting almond,pistachio and peanut kernels.
Advantages of Almond Slivering Machine:
a. This slivering machine is made of stainless steel,clean and sanitary.
b. The size of almond slivers can be different by adjusting the machine, it can be cut into two parts, three parts or many parts.
c. The knife roller of the slivering machine is made of special material of high quality, durable and has perfect cutting performance.
d. The nuts slivers are of good quality, have even surface.
Related product:
Almond shelling peeling machine