1. Introduce of
Sunflower Seed Roasting Machine Line
The sunflower seed roaster machine is the first drying process after the sunflower seeds are washed by the washing machine. The main purpose of the machine is to remove the moisture on the surface and inner part of most products so as to do the work in the back. This melon seeds roaster line is suitable for roasting sunflower seeds, melon seed, pumpkin seed, peanuts, and other granular nuts. The machine has the advantages of high efficiency, energy saving, quick drying, uniform dehydration, large drying temperature and controllable range, uniform baking, high output, low energy consumption, no pollution, etc..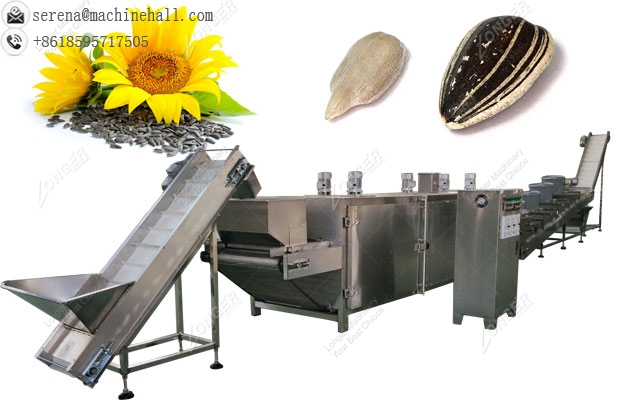 2. Sunflower Seeds Cleaning Machine
Cleaning machine is necessary for nuts, melon seeds, pumpkin seeds. Grain after harvesting contain not only rich and mature seeds, also damage, broken and immature particles. In addition also contains many impurities, such as grass seed, sand, broken ear, clever shell, etc. So sunflower seed after cleaning can meet the requirements.
3. Seasoning Machine
This machine is used to flavor sunflower seed with different seasonings.
4. Feeding Machine
This machine is used to feed raw material roaster machine into next step processing, improves the automation of this whole line.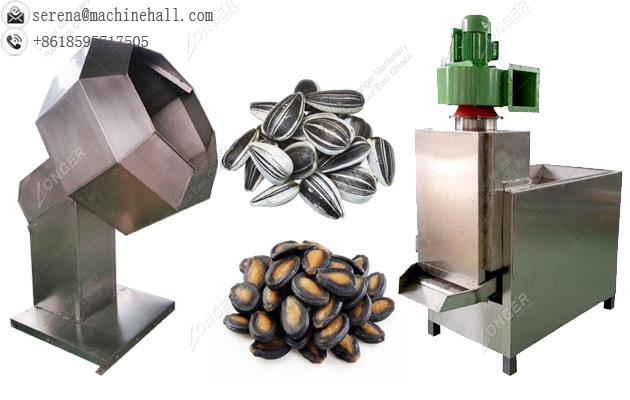 Advantages of
Melon Seeds Roasting Machine
:
1. The equipment runs stably and can be continuously manufactured. It is only about 5-10 minutes from the expected time that the material can reach the drying requirement.
2. The machine adopts low temperature drying technology, effectively reduce the loss of nutrients in the material.
3. The drying effect is even and thorough.
4. The machine adopts the way of feeding at one side and discharging at the same time. It is highly automatic, free of labor, and can be industrialized production. It saves time and effort.
5, melon seeds mechanical nuts dryer equipment, in line with national safety and health standards, while environmental protection, no "three wastes" produced.
7. This equipment can be used for drying other grain at the same time.
8. The use of stainless steel production to ensure food safety while greatly extending the service life of the equipment.
9. Equipment covers an area of small, low energy consumption, simple operation, that is, open and easy to use, easy to control.